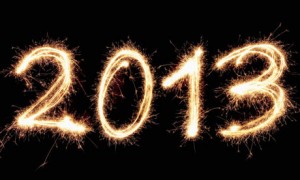 As December marches on, it seems only appropriate that I do what I always do this time of year—reflect on the good, bad, and ugly, and evaluate my Bucket List 2013 successes. As I go through the list, remember that over the year, interests and priorities change. So while I may not have completed some items, it's not necessarily bad. Doing something just for the sake of completing it isn't half as gratifying as these lists are intended to be.
Though I don't usually title them, 2013 was a year of love. When I returned from Europe January 5, I jumped head-first into a fulfilling and incredible relationship with AB. I introduced him to my mother (success), traveled with him and friends to Puerto Rico for Spring Break, watched him walk at graduation, and helped him move to New York (by help, I mean I provided emotional support. No heavy lifting or apartment hunting, sorry babe). He, in turn, put up with my waking up at 3 a.m. to go to my internship, supported me throughout my job search, and, well, put up with me. So there's that. Then, for Thanksgiving, I actually traveled down to the D.C.-area and met the whole famn damily (and loved them). How's that for commitment (me?!).
There was love in other corners of my world, as well. My relationship with my mother, as ever, grew stronger still. I talked more, and subsequently more openly with my dad and my older brother, and felt overwhelmed by their unconditional love and support. My relationship with Captain America was strengthened by trips to Walmart, where we bought awesome-ly horrible tie-dye cat shirts (and then found a couple wearing equally hideous matching three-cat-moon shirts and took a picture. Small world), and by impulsive road trips. And flung together by mutual feelings of abandonment and a shared love of caffeine, my friendship with Batman grew, too. Then, this fall, my baby brother moved to Boston, and for the first time I had family (the real kind—not my haphazardly created, but nonetheless wonderful, fake family) with me in my city. And speaking of "fake" families, I fell back in love with all things Kappa, thanks in no small part to my amazing dreamlittle and an endearingly crazed fellow blogger named Sugarwoman (guest post to come!). Other highlights…
There were hardships, too, when I acutely felt the pain from the Boston Marathon bombings, as I struggled to manage an unideal roommate situation, deal with various financial hardship and instability, figure out "real world" stuff, and do long-distance. I also still can't figure out what I want to do with my life (Four-year-olds know what they want to be "when they grow up." Come on, Mar).
I dyed my hair. A lot (To his credit, AB noticed 2/3 times). I finally acknowledged the harmful effects of tanning—on both my skin and my wallet—and cancelled my membership, I cut out preservatives (sorta), and tried to be gluten-free (cookies don't count). I started lifting weights with AB and found that I loved spicing up my workout. I read more about health and nutrition, and then took a class in it (97%, woop woop!).
And I started to do adult things. Like get a full-size bed. Buy a car. Gradutate. Get a job. Find an apartment. Get my wisdom teeth out (ugh). And five years late, I actually started to care about my classes and invest time and energy into learning things just for the sake of learning them. (Pause for reaction).
Some years (Ahem, 2011, I'm looking at you), I've looked toward the new year with a sense of relief because at the very least, a new year means that no more bad things can happen in this year. But I'm admittedly a little sad to see 2013 go. There are few memories this year that I don't look back on fondly. 2014 will pull the rug out from under me, but here's hoping it's in the best of spirits. With the support network I've garnered, particularly in the past year, I can't imagine any potential hardships would be unbearable.
So in that spirit, let's evaluate my 2013 Bucket List: Continue reading →