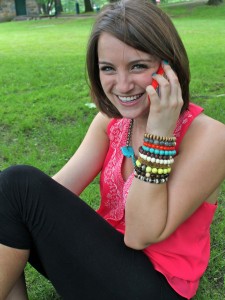 Hi, I'm Marian and I'm the "she" behind Musings She Wrote. I've been blogging—in some form or another—since 2009, and you can find it all here. I am a California native who's quickly falling for New York, with a passion for cooking (and eating) and traveling. Though the theme of my musings has changed over the years, I currently wax poetic on my experience as a recent graduate and young professional, and the idea of "living like a local, exploring like a tourist," as I take on and adopt my new(ish) city.
Here on MSR, I share books and recipes, and otherwise stretch my creative muscles. Though I've transitioned to the incredibly exciting field of PR, writing is forever an integral part of my life—and cheaper than therapy.
About my writing
I come from a primarily media-based background: I've shadowed Josh Brogadir as an intern reporter at New England Cable News, and spent two years as a correspondent and fact-checker for The Boston Globe. I've previously worked at Marie Claire magazine, and at my college paper, and my writing has appeared in Cosmopolitan magazine; Latitude News; Blood, Sweat, & Cheers; The New England Newspaper and Press Association (NENPA) Bulletin; and Fenway News. I also single-handedly founded, and secured funding for, a brand new general interest magazine at my school called WOOF Magazine. WOOF covers fashion, campus life, food, travel, and the "Northeastern experience," and I'm happy to report that it lives on in my absence.
About me
Here are a few fun facts about me:
1.  I first started blogging when I was 12, and can't delete the evidence. Nowadays reading my old blog has turned into a drinking game.
2.  I've moved 13 times, all in the last 5 years. On that note, I'm a professional packer.
3. AB stands for "Almost Boyfriend," which is what I called AB back when I first wrote about him, before things were "official." They're not his initials.
4.  "Woof" is like "Aloha" in my family. It's a greeting, a sign-off, a nickname. WOOF Magazine's name was both a shout out to my family, and fit with my school's husky mascot.
5.  I wear a toe ring.
6.  Despite being an Anglophile, I have a weird affinity for math. I won first place as a mathlete in fourth grade. In high school, I failed my AP Calc BC class (because I never went), then got a 5 on the AP test, so the teacher bumped the grade in accordance with my school's policy.
7.  I'll put a fried egg on (nearly) everything—salads, pancakes, leftovers, and my favorite—Halal cart.
8.  I aspire to make my life a "Perfect 10."
9.  I once wrote about the glories of red lipstick.
10.  Red wine (especially a French cab) fuels my creativity.