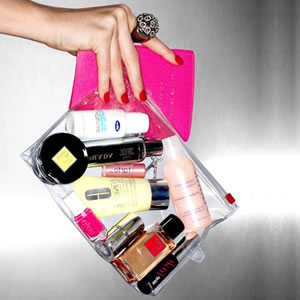 You know what I was thinking about last night? Mary Poppins (because I'm weird like that). I was thinking about her magical purse—side note: Hermione totally stole her purse from Poppins. Just saying—and how awesome it would be to fit everything in there. Since I moved further away from campus, I've turned into something of a bag lady. I carry around my Longchamp with the necessities (laptop, notebook, planner, kindle, water bottle, wallet), and then there are the slew of classy plastic grocery bags with my lunch, snacks, laptop charger, gym clothes, running shoes, interview clothes, whatever. Bag lady.
Anyway, while I was dwelling on the inexplicable awesomeness of a true carry-all bag, I was also painting my nails. During my work study. Because I'm that girl. And I'm not trying to brag but my top coat is the shiz. All my girlfriends borrow it and it makes my $2 bottle of off-brand nail polish look like a professional gel manicure. Just saying.
Bag. Top coat. In true Marian, scatter-brained, brain-barf fashion, I started crafting a list of what I consider my favorite essentials. It's on this year's bucket list to host a "favorite things" party. The rules are thus: buy enough of your favorite product (with some price limit) for all attendees. Say a little something about it, and hand it out. Thus, at the end of the party, everyone goes home with their own little goody bag of products their friends love and recommend. And also a belly full of wine and snacks.
Now, after the longest introduction ever, here are some top contenders for what I would pass out at the party.
Essie "good to go":  I also really love Seche Vite, but both top coats are super glossy and dry fast. I'm not afraid to lay 'em on thick, because I figure a good top coat is like a suit of armor for my nails. A week later, they still look amazing and interview-ready. A decent top coat is a little more expensive, but not as expensive as the numerous manicures you won't have to pay for now that you're a pro. Just saying.
Pantyhose: I'm not loyal to any particular brand, but I still can't for the life of me understand why women of my generation don't wear hose. I get that legs are sexy, but, like… keep the sexy bare legs for summer picnics and nights out. Not work. At work, I want to look uniform and good, but not sexy. On a tangential side note, here's why women in my generation should beg to wear hose: those control tops are like a skinny-making machine, plus if you tuck your shirt into the hose, it keeps it tucked into your skirt. Genius! Plus, it means avoiding uncomfortable leg-on-leg sweating/sticking. Get it together and buy a pair of $2 hose. Or come to my party and I will.
Ban's "sweet simplicity":  Okay, so I know deodorant (or what I call "Deo for the B-O") isn't all that sexy, but it is essential, so hear me out. I've been using this brand of deodorant since 7th grade. Back in the day, my hormones were evil and I was one of those awkward kids that wore a sweatshirt every day to hide my pitting. See? Not sexy. But inspired by my awkward, um, problem, I did some research and learned what chemical in deodorant is actually the antiperspirant. Aluminium zirconium tetrachlorohydrex gly (say that five times fast). And Ban has the maximum amount allowed for OTC deos. Also it smells like a tropical paradise. Which is way better than body odor. So there. **Side note: Ban is TWO DOLLARS on Amazon?!?! Never buying in-store again.**
NYC liquid eyeliner:  While I'm really particular about some things—like deodorant and gum, for example—I'm not a big loyalist when it comes to beauty products. I'm a Birchbox user, and like to try a little bit of everything, switch up my look, whatever. But one thing that remains consistent is my use of liquid eyeliner, the unsung champion of the beauty world. Liquid eyeliner is, well, amazing, and when applied correctly gives a look more "pop" than neon pink lipstick. For real. And it doesn't need to be expensive, either. NYC's version has a super skinny brush for a precise line. For cheap (it's actually cheaper at CVS).
Nivea Sun-Kissed Radiant Skin:  So apparently CVS hates me because they stopped selling this, and it is, without a doubt, the best lotion out there—and that's not even taking into account the tanning aspect. As a native Californian, I treasure a "healthy-looking" (whatever that means) tan, but I can no longer justify tanning beds. This is cheaper and easier. And—wait for it—smells amazing. Tanning lotion that smells good. I'm not kidding. It even has a teensy bit of sheen to it. I stretch a bottle (and avoid any potential streaks) by mixing it with my other favorite lotion. **Side note: ALWAYS buy the fairest version of a lotion. The others pack on more orange, which is gross.**
Party invitation to come.