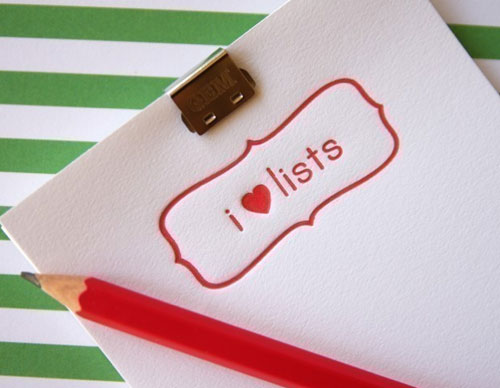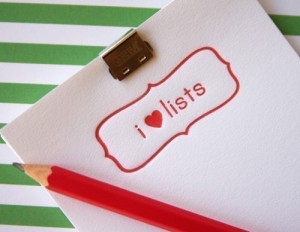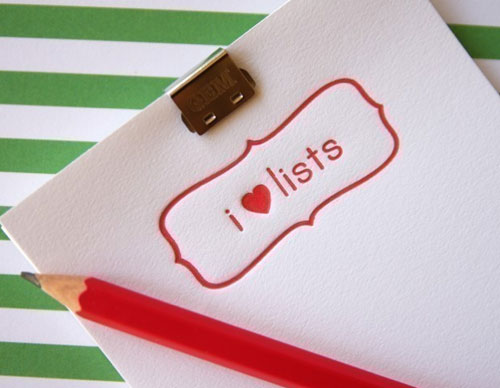 It's mid-February and I've crossed 8-9 items off my 2014 bucket list already–which puts me right on course to complete the list (though I never actually do) in a timely manner. There's just one problem: It's seven weeks in and I'm feeling lackluster about the remainder of the list. So. Inspired a little bit by some of the items on the 101 in 1001 lists, a little bit by some additions to my "Bucket List stuff" Pinterest board, a little bit by Glitter Guides regular "5 Things to Try This Weekend" posts, I'm going to try something I've never done before*. I'm revamping the list.
2013 had a whopping 80 items on its list. 2014 has 45. There's more than enough room for a little extra sparkle. So, friends, I'm adding to my 2014 bucket list the following:
Whittle my makeup routine down to only 4 or 5 items.

Buy a lip/cheek stain.

Invest in matching underwear sets.

Eliminate TV as a remedy for being bored (keep it to regularly watched shows). Read or write instead.

Find a quality tailor and have my suit jacket fitted.

Have my favorite boots re-soled.

Hand make holiday gifts/stocking stuffers this year.

Buy brightly colored pants (like these?)

Set myself up to live debt-free in 2015.

Make a new female friend.

Learn something that increases my professional value (e.g. coding, finance, social media).

Purchase or make a new (artsy) camera strap.

Maintain an apartment wish list so I can strategically and intelligently make purchases.

Take before and after pictures of my new apartment.

Identify and blog about a 2014 theme.

Get a new pair of eyeglasses.

Buy a living plant (herbs or topiary or desk plant?) and keep it alive.

Find a pair of work-appropriate jeans.

Re-pierce my ears (After my right hole tore, I'm trying to let them close up).

Do something crazy.
Cheers to 2014 (again)!
* Of note: Though I've never "revamped" a bucket list, I have crafted "supplemental" lists for a shorter period of time—trips, summers, etc.