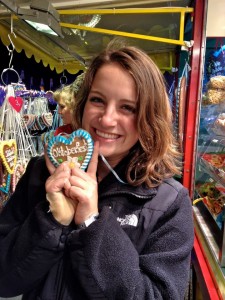 Another year has come and gone… And a better year than the one before, I'll grant her that. In looking over the past 12 months, there are numerous highs that stand out. In 2012, I worked one of the best jobs I could have dreamed up, I rekindled relationships with friends I had abandoned when a boy came along, I learned to respect myself (and ongoing goal), and I spent some much-needed time at home. I ran 13.1 (ok, I ran 10 and walked 3.1, so shoot me) miles and traveled the world, I lived in freaking Paris (Paris?!) for four months, I blew way too much money in Prague, I drank way too much biere in Munich. I finally—finally—let myself have a break, and only took 2 1/2 classes. I read books, I caught up on about 5 seasons of "Gossip Girl" (I can hear you judging me), and lived. It's been an incredible year.
Of course, as my friend Dickens says, "It was the best of times, it was the worst of times…" And while 2012 doesn't come near to being as terrible as The Great Flustercluck of 2011, there were some lows. But I survived the apocalypse, so at least I got that on in my tool belt, right? Suffice to say the highs outweighed the lows…
For those who don't know about my annual bucket lists, I'll explain later, but below is my 2012 list, what I completed and what I didn't. 2013, here we come! This year's bucket list to follow:
Work at The Boston Globe.
Study abroad.
Train for and run a half marathon.
Do something crazy.
Get a Yurman ring (or other indulgent gift).
Take a weekend trip.
Watch "Finding Nemo."
Buy something Kate Spade 
Create a website, rebrand myself.
Pitch and publish a story with WBUR or The Boston Globe.
Buy myself leather boots.
Have poetry or photography published.
Travel to Scotland or Spain. (changed when my study abroad plans were more solidified)
Volunteer 30 hours. (don'tttttt think I managed that many)
Ice skate on Frog Pond. (Will do the FIRST week of 2013)
Cut bangs (again). (counting this because I chopped all my hair off)
Get a professional massage.
Have a tea party.
Be in a dance.
Try a cleanse.
Skinny dip. (why is it that this one NEVER gets accomplished?)
Learn basic HTML coding.
Send Kelly a care package. (sorry, babe)
Take a roadtrip.
Take a Duck Tour.
Go to the Isabella Stewart Gardner Museum.
Have a machaca burrito.
Spend a day walking around with my camera.
Go to a country or state I've never been to before.
Make a meal for someone.
Visit/see Lauren and Minna.
Ride a bike.
Write a letter to a soldier.
Climb to the top of Bunker Hill.
Walk the Freedom Trail.
Visit Concord and Lexington.
Play paintball.
Visit or volunteer on a farm. (not so keen on doing this anymore. we'll see)
Open a credit card.
Regularly transfer money into my savings account. (Of course, then I blew it all in Europe)
Register with the DAR. (Helped Mom do it, so now it's just $25 and I'm in.)
See a psychic or tarot reader.
Have my portrait done.
Kiss someone on Valentine's Day.
Draw something I'd be proud to frame and display.
Decorate/redecorate my apartment.
Have an old-fashioned, girly, popcorn-and-chick-flick-fest sleepover. No boys allowed.
Visit a Harbor Island.
Plant a tree.
Tan regularly.
Probably my worst year (percentage-wise) yet, in all honesty. But it was a big year for change, so a lot of my goals and wishes changed as well as the year progressed. Plus, once I'd left Boston half-way through the year, it was a little difficult to do some of the Massachusetts-specific items. But c'est la vie and look out for next year's!