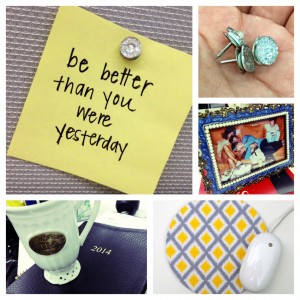 I like glitter. And pretty things.
This is how I tried to explain to a coworker in my "pod" why I spent my free time sticking stickers to tacks to decorate my desk. There was some judgement. Well, judge away. I find that when things are pretty (and organized and clean), I am my most productive and creative. So I take the time to surround myself with pretty things.
I'll be brief, but I thought I'd share my desk decor.
Clockwise, from top left: (1) This little quote is a new favorite and inspires me to not only be the best that I can, but to show improvement—and ultimately get hired for realsies; (2) the DIY shiny thumbtacks referenced earlier, materials from Target; (3) my favorite picture of my family, from a trip to Baja, Mexico in seventh grade; frame from Marshall's; (4) a soon-to-be-purchased, bright mouse pad, $12 on Etsy; (5) a leather weekly planner from Barnes & Noble; and a tea cup pencil holder, $3 at Marshall's.
Pretty, but not too over-the-top. Just enough to make my desk feel like home. That's a good thing, right? Comment with ideas for additional ways to personalize and decorate!