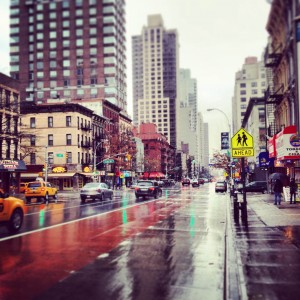 I start tomorrow. Thirty-three hours to be exact. I'm temporarily camping out at AB's, until I move into my month-to-month furnished apartment in Stuytown. The whole moving out process was a little overwhelming—For a while there, I thought I was going to have to knock on neighbors' doors to find someone to help me move my dresser downstairs. Note to self: Never try to move the week of Christmas; there are so few people around to help! But I managed okay and here I am, galavanting around the city, visiting secret speakeasies and brunch hotspots. Side note: The fried oyster, egg, and bacon sandwich at Penrose is amazing, decadent, delicious. Ask for gruyere cheese.
Foodie/Drinkie talk aside, the real world is here. As a graduation present, AB's mom got me a generous gift card to Ann Taylor, and I went to work searching for Perfect 10 pieces that are appropriate for the workplace, but still reflect my style (I have a downright love for knit and leggings. Not exactly professional, but I try to integrate comfort and class). In the best twist of fashion fate ever, LOFT happened to be having a 50% off everything sale. So… I made off like a bandit.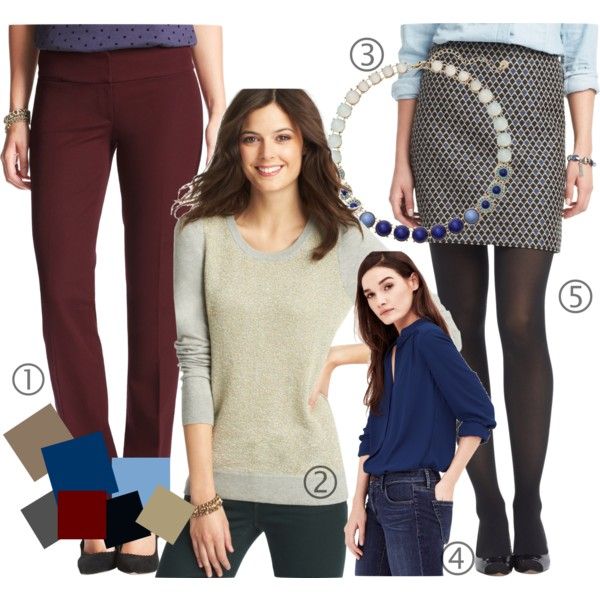 1. Marisa Straight Leg Pants in LOFT Bi-Stretch — 2. Lurex Jacquard Long Sleeve Sweater — 3. Short Blue Stone and Enamel Necklace — 4. Shirred Button Down Blouse — 5. Diamond Jacquard Straight Skirt
Also, a special shout out to these amazingly comfortable flats from Payless, which I also picked up (because everyone needs black flats) and spent the last 24 hours falling in love with.
In the process of moving out, I was able to do even more filtering of my wardrobe and "stuff," donating a total of five trash bags of goodies to various charities, and throwing away more than two trash bags' worth. After so much cleansing, I'm a hesitant shopper. I believe in the one-in-one-out rule, so things must be perfect. Here are some helpful hints and shopping tips I learned in Perfect 10 shopping.
Use Retail Me Not. This seems obvious to me, but in case there's anyone out there that doesn't know what it is… learn. Similarly, ask store associates (not managers)  if there are any special discounts. When I worked in retail, I was happy to inform people about "secret" family and friends discounts. And student discounts are the best. Doesn't hurt to ask, right?
Know your style. I've alluded to this a little bit, but let me explain: Just because I work in an office doesn't mean I'll need to wear suits everyday. I would hate it. There are many components to one's "style."
Lifestyle. Don't buy sweats if you work in an office. Don't buy suits if you work at a gym. The proportion of your wardrobe should be roughly equal to how you spend your week. i.e. If you work 60% of the week, and lounge 10%, then have 60% of your wardrobe work-appropriate and 10% leggings and sweats. This isn't rocket science, but it does mean that there is a little adjusting necessary during a lifestyle change (say, from student to employee).
Personal style. Even if you work in a conservative office, if you're not the suit "type," there are alternatives. Don't pretend to be someone you're not. I know I'm not likely to spend the time ironing my shirts, so I buy the silkier types that need less TLC. Similarly, don't buy something for one occasion (like a party or holiday); chances are, you'll never wear it again. And don't buy something just because it's "in." I'll never wear harem pants, because they aint me. And polo shirts? Lol, no, thanks.
Body style. This point has two parts: your body shape, and your coloring. Knowing both is of dire importance. For example, with my build (read: butt), I know I need to buy bottoms that fit at my natural waist, rather than my hips in order to avoid—ahem—crack. As for coloring, I have very fair skin, with "cool" tones, and dark brown hair—classic winter coloring. So I know that I look best in dark jewel tones, tans, greys, and blacks. If I were to wear, say… yellow, I'd look downright sickly. If you don't know your coloring, this site has a pretty comprehensive overview (To be more specific, with my green eyes, I'm a clear winter. See the similarities with the colors above?).
Plan your shopping. Much of the Perfect 10 wardrobe relies on planning in order to avoid impulsive, un-researched purchases. In order to perfect the art of Perfect 10 buying, take your time. Write a list of the things you really need, and keep to it. Do some research by reading blogs or online customer reviews. Most importantly, try things on and be honest about whether or not they fit. And lastly, be patient. It can be difficult to walk out of a store without buying something, especially when you need it. But quality costs time, money, and patience.
Return, refund, exchange. I do a lot of my shopping online, which has it's advantages (online customer reviews, convenience) and disadvantages (paying for shipping, things don't fit). Many stores will accept online returns. When I accidentally got the wrong size and width in the Payless flats, I called ahead, walked into the closest store, and walked out with the perfect pair. Similarly, I recently saved $100 by "returning" and repurchasing a suit during a sale. Sneaky? Eh, I call it thrifty.
Happy shopping Ten-ers! And special thanks again to AB's mom and her generosity. I can't wait to style it up at work—eek!