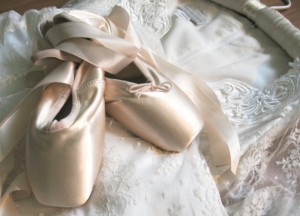 A while ago, I read Sheryl Sandberg's Lean In. It inspired me during my job application process to put myself out there, ask for what I want, and negotiate. I learned about the delicate line women must dance between being feminine and being powerful, between being assertive and being nice. Put on your dancing shoes—It's one heck of a ballet out there, ladies.
I've had many internships, both good and bad, and I've learned boatloads from both. Quality of work cannot save one if they don't act the part of a professional. I work in a female-dominated office (I mean, welcome to the world of PR), but I still try to put into action all that I've learned. I want this internship to turn into something long-term, so I'm getting myself noticed (in a good way). I'm leaning in.
Here's how:
I'm playing the part. I believe strongly in the adage "dress for the position you want, not the position you have." As an intern, it's easy to wear boots and leggings and comfy, quasi-professional clothing. But I've taken stock of what others wear, and adjusted my style accordingly. When I noticed that I was a solid 3 inches shorter than… everyone (when did 5'4″ become so short?), I committed to wearing heels. Every day. Every office is different, but it's important to take note of what others are wearing and dress *up*. That is, up the corporate ladder.
There's a lot more to it than dressing the part, though. Appearance is important, but so is perception. I recently listened to a TED talk about the subconscious psychological affect on oneself and others of power poses, of "being big," taking up physical and metaphorical room. I'm subtly trying to note this during meetings, and be big. Check out the talk for more insight—I know saying "I'm being big" is vague.
"Women dressed professionally earn between 40 percent and 60 percent more over their lifetimes."
–Nashville Biz Journal

I'm participating. This one should be self-explanatory, and applies to those that are in stable positions, as well. But when I show up to work, I'm there to work. I take notes, ask the right questions, get involved. Having completed so many internships before, I know how second-nature it is to be a wallflower, enthusiastic about doing tasks when asked, but not being proactive on one's own. I can't afford this wallflower luxury. I'm hungry for a job, and I'm making it known.
I'm introducing myself to people. I'm sharing my ideas and helping on the most remedial tasks. I'm putting together groups for collaboration between interns. I'm doing my own research and alerting my teams to any relevant information I find. I treat this internship differently than former co-ops. I am hungry. I want that determination and passion to show; they are my greatest strengths (Note: This does not mean speed of work over quality. In any industry, accuracy—even in emails to peers—is key).
"Don't ever take a job for granted. Every day you must prove yourself."
–Tracy cioffi

I'm networking. I've instituted a snowball networking system, whereby I ask a person out to drinks/lunch/coffee. Later, I follow up with an email or conversation asking them whom in the office they recommend I get in touch with. This system is beneficial in many ways: (1) it "forces" me to reach out to those I might not have initially thought of, (2) it gives me an excuse to talk to them besides brown-nosing, because emails can start off with, "I was talking to so-and-so, and they suggested I get in touch with you to talk about fill-in-the-blank. Are you free to get together this week?" and (3) the networking tree grows exponentially. Most people give more than one name, so I can reach out to multiple people at once.
Networking at my job is important because it's an open-concept office where employees at every level work and converse with employees at every other level. It's important to know first names. Further, even if I do rock my internship, there might not be availability at my company. By building relationships with others, I am opening more doors. Many come form other firms or know people "in the business."
"If [networking] doesn't work, come armed with sweets. Who can turn down home baked goodies?"
–Dustee Jenkins
Any additional suggestions for me, or for those looking to turn a temporary situation into a full-time job?