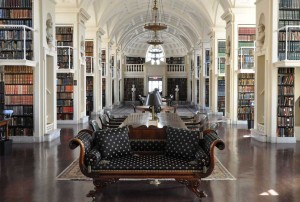 I confess: I'm a bit of a book nerd. And with the purchase a couple years ago of my beloved kindle, I became a bit of a book juggler, as well, jumping from Sheryl Sandberg's Lean In to Elizabeth Gilbert's Eat, Pray, Love to Martin's and Ravich's I Have Nothing to Wear (which I've become re-obsessed with—more to come) to Marion Nestle's What to Eat. Suffice to say I have some widespread interests.
Starting in January, Captain America and I are starting a two-man book club. I found a list on Pinterest of "100 Books That Will Make You More Interesting, More Attractive, and Sound Smart Even If You Aren't (Yet)." An ambitious name. We're using the list as inspiration. We will read, meet (over food, most likely), talk, cultivate our minds, and expand our reading experience.
Reading brings people together. So I was thrilled to learn that, if all goes as planned, Boston is soon to be home to the nation's first literary district. I long ago espoused my fascination—dare I say love?—with/for Boston's under-appreciated Athenaeum, and I'm thrilled to see its beauty touted in any way possible. Naturally, it's included in this proposed district. Other landmarks include Boston Public Library, with its gorgeous courtyard; Copley Square, home of the annual Boston Book Festival; the Make Way for Ducklings sculpture in the Boston Public Garden; Beacon Hill, former home of many of Boston's literary geniuses; and Washington Street.
I strolled through the city on my own little literary tour and caught some pictures of the featured landmarks. The next time you pass the Athenaeum's distinct doors at 10 1/2 Beacon Street, be sure to step in for a look around (The first floor always features a free art exhibition).