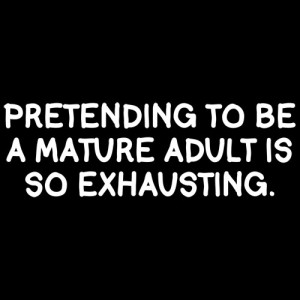 I'm not good at goodbyes. And by "not good," I mean I tend to avoid them all together (One big exception would be crying in an alley with my little before I abandoned her to study abroad, but I digress…).
With a major chapter of my life coming to a close, I feel obligated to write all these goodbye tribute posts. Farewell to Kappa. Farewell to college. Farewell to Boston. Farewell to childhood. But it doesn't feel like closure, somehow. It feels like… I'm not entirely sure. It feels like I still have a ways to go before the chapter really concludes.
I'm not sad, necessarily, because there's still much to look forward to. I'm not excited, necessarily, because there's still much to do (and few people to help me do it). In all honesty, I feel like I'm faking it, like one of these days someone is going to pull back the curtain and realize that I'm just pretending to be an adult. Surprise! I have no idea what I'm doing.
I made the mistake of counting, and this upcoming move will be my 12th since I graduated high school. That's roughly three moves a year. I've learned to save my boxes, leave certain boxes unpacked, and minimize. I'm looking for stability, yet I have a temporary position that won't really support me financially and a savings account that's dwindling at best. I joked recently that I'm going to end up buying a house when I'm 26 just so I can point to one red front door in a sea of doors and say, That one. That's mine.
In all honestly, I'm absolutely terrified. I feel ill-equipped to jump into a new industry, I (quite rightly) feel ill-prepared to support myself. I feel exhausted by my potential (that's a good thing?) and by having to itemize my priorities when I have little to go off of—What's more important? Being near AB? Making money and supporting myself? Doing what I want to do? What about when those things conflict?
What people don't tell you is that once you graduate, it's no longer six-month co-op commitments. Every decision factors in the five-year trajectory. Where do I want to live in five years? Will I be in a comfortable position to transfer by that time? When do I want to have a family? Why is none of this—job, relationship, career path—guaranteed?
And perhaps I'm being a little melodramatic. Okay, a lot melodramatic. I have a uniquely potent dose of the real world right now and it's a lot to handle. I'm trying for grace, grace and gumption during this uniquely turbulent next couple of months. Compared to all this "real world" stuff, college sounds easy as pie. Maybe that's why I'm not too keen on saying goodbye just yet…