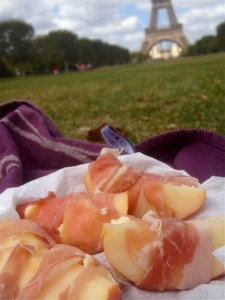 As I write, I'm picnicking on the Champs de Mars. I feel like something out of a novel–sunbathing with my computer, wine, and some yummy tapas. I actually cut up an apple, smothered the slices in stinky French cheese, and then wrapped them in proscutto. If that doesn't make me French, I give up.It's certainly been an interesting couple of days. In all honesty, I'm a little surprised I even made it out of the apartment today. I've been sleeping so much since I landed, and have a hefty dose of jetlag. I was planning on just eating my little feast in the apartment, while scouring Pinterest and contemplating maybe sometime in the far away future writing. But when I started putting the food together, I just made myself get out. And thank goodness.
I'm still learning how to be French. And I'm sure I'm not doing it right. People that walk by keep looking at me (Actually, people everywhere keep looking at me. And not in the Italian creepy kind of way.  I'm beginning to think I just scream American wannabe). For starters, I'm lying down on my stomach so I can type. I see no one else doing this, despite the glorious sun. They're all sitting like proper human beings. Second, I'm alone. Again, no one else is, but they have friends and I don't so phooey on them. And then there's the matter of the Macbook. Absolutely NO ONE is doing any sort of work. Leisure time here is leisure time (They don't understand that writing to me is fun).
Oh my, just took my first bite. I'm a freaking genius. Perfect mix of sweet and tart and salty. I'm in heaven.
But back to business… it's hard to fit in here. What I thought was pigeon French is actually English, and actually I find myself speaking Spanish more often than French anyway. I also don't have the je ne sais quoi that's such a defining characteristic of French women down yet. French women are messy chic, and it's hard to strike the right balance, especially when I've spent the last umpteen years perfecting (what is hope is) my polished young professional look. I might just have to pass on the hobo chic thing. It's just not worth the effort (or lack thereof?).
Instead of the fashion, I'm trying to focus more on the general French lifestyle, appreciating and cultivating all things beautiful. Like food. And sunshine. And while I don't have the fine details down, I'm certainly cultivating beauty in my own way, napping all the time, people watching, walking the Seine, and obviously eating like a queen.
The rest can wait.