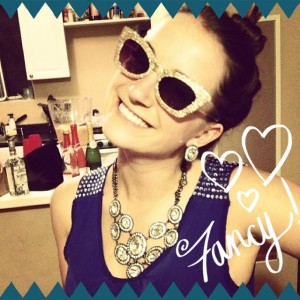 (NOTE: I'm posting this prematurely, but it's been quite time consuming. I will finish all 21 acts and add links and updates periodically—It's an ongoing project!!)
I'm finally 21! After legally being able to purchase booze in Europe, it was a little frustrating to return to the good ole' US of A. Sometimes a girl just wants some wine, yo.
On previous years, I've drafted up lists of (typically cheesy) "Things I've learned in my __ years," but that seems silly for some reason. I have learned many things in the past 21 years: one of which is that I don't like using cliches. It's… cliche.
Plus, this birthday is no ordinary birthday. It's the big 2-1. And don't get me wrong, I definitely had myself a good time when the clock stuck midnight on the night of my birthday. I more or less shoved my ID in the face of the bouncer, happy as a skunk to be legal. FINALLY. But everyone does that…
Not everyone decides to spend their birthday summer doing charity. I mentioned my plan a little before, but here's the gist: 21 acts for my 21 years. Sooo much better than 21-things-I've-learned-that-are-maybe-in-a-galaxy-far-far-away-somewhat-relavent. I was inspired by a blog post I found on Pinterest, and decided to do my own little version. As previously mentioned, my goal is to vary the methods (money, races, goods, volunteer time), and the recipients. So without further ado, ladies and gents:
The 21 Acts of Kindness/Charity for my 21st Birthday (in no particular order):
1. Buy a Boston Strong shirt.
I started drafting ideas for this list shortly after the Boston Marathon bombings. After the Boston Strong concept popped up (about 3.2 nanoseconds after the first explosion), hundreds of companies and students and Etsy designers started distributing designs, with some or all of the proceeds going towards the One Fund Boston. But today, as I was walking home from the Women's Lunch Place (see below!), I stopped in on a pop-up charity sale with the proceeds going to OFB (which—as a brief aside—has raised almost $50 million!!). I found the most perfect shirt, produced by Marathon Sports (the store where one of the bombs went off) with a little design on the back of the intersection.
Recipient: One Fund Boston, me (I mean, I got a super soft, cute, patriotic shirt of awesomeness).
2. Volunteer at a Red Sox game.
I'm actually doing this twice—once on my own when the Red Sox play the San Diego Padres (whom  no one else cares about), and then again with my parents when my family comes to visit later this summer. It's a great setup that I learned about through my sorority: they feed you, then you sell raffle tickets for the first 7 innings—the proceeds of which go to the Red Sox Foundation, and then you're free to watch the rest of the game at no cost. Awesome, right?
Recipient: Red Sox Foundation, me (I mean, I get to see a game. For free).
UPDATE: My friend Pitu came with me last minute and we had so much fun! We got great seats, post-volunteering (I could almost touch the monster), and finished our night with yummy, yummy beers at Yard House!
Hi, this is my "besfrenn," who will henceforth be referred to as Captain America or CA. Since many of my friends decided to ditch town this weekend, I asked him to come up from New Jersey and play with me—and he happily obliged. Best person ever, right? I also asked him to come with me to volunteer at WLP on Newbury Street, a pet charity of mine. We were originally slated to run BINGO, but instead we raffled off prizes to the wonderful women, and then organized their "freebie" closet. I might even go in once a week or so to organize their closet! It was simple work but fun nonetheless, and I had fun with my besfrenn!
Recipient: The Women's Lunch Place, me (I mean I got to hang out with CA). Continue reading →